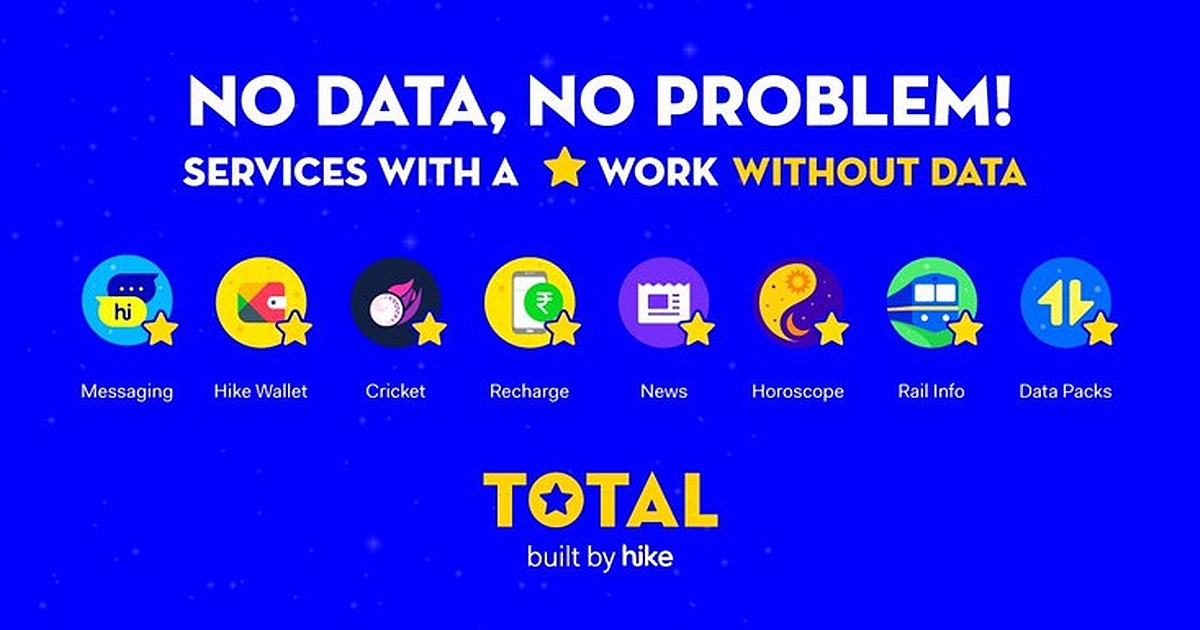 Hike, the famous Indian messaging app which helps its users to "keep close friends close" as its slogan says, just rolled out a new operating system for smart phones that allows the mobile owner to use services like messaging and perform other tasks like recharging without having to have the mobile data connected. This new operating system step is being taken by Hike, targeting users that are on the lower end of the smart phone market, to take on the leading messaging app Whatsapp.
The services that are offered on Hike's new operating system are called "Total" and they cover a wide range of different areas in the mobile services world including news, rail information, horoscopes, and financial transactions which can be done via Hike Wallet.
Since the operating system is intended for on-budget smart phone users, it will be pre-installed on entry-level smart phones produced by Intex and Karbonn with prices that range between Rs 3000 and Rs 5000, and unlike Facebook Messenger and Whatsapp, micro apps of Hike Total will not be needing data connection to work since it will be using USSD which it is a technology that uses GSM network channels, that are used often to send messages or make voice calls, to send and receive information.
The founder of Hike, Kavin Mittal, said that the main purpose of Hike Total is to get more users on the platform of Hike. He also stated that the company intended to take advantage of the fact that there are 200 million smart phone users who still do not use their mobile data. Since the total number of smart phone users is about 400 million, it means that about half of the market is yet to be targeted.
In the mean time, Keshav Bansal, director of Intex will integrate the services of Hike Total into low-budget smart phones which will benefit the users who will also receive offers of customized data packs for lower rate.
Hike, now supported by many large names such as: Bharti Airtel, Softbank, Foxconn, Tencent, and Tiger Global, is now in negotiations with Micomax and Lava, as well as Chinese smart phone manufacturers and Samsung. As for carriers, Hike has agreements with Bharti Airtel, BSNL, and Aircel, while the users of Reliance Jio Infocomm will be waiting due to the Voice over LTE network of the company not supporting USSD service which Hike Total is based on.