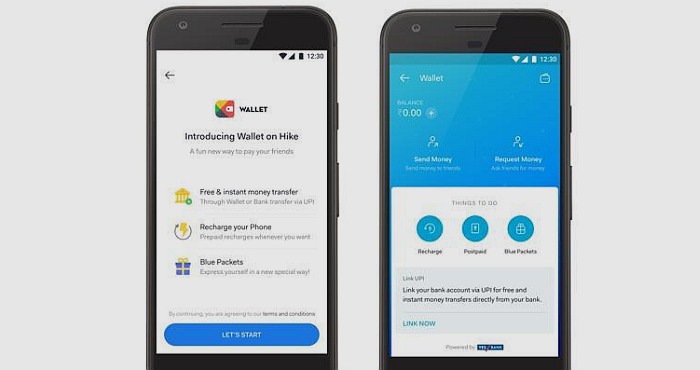 On its way to become an all-in-one social app rather than being merely the chatting app that it currently is, Hike, The Famous and popular Indian Messaging app, has just announced its most recent partnership with Airtel Payments Bank in order for the Bank to power and manage the messaging app's digital wallet.
Crossing a huge milestone of a 5 million transactions this November from its online services such as P2P and recharging, Hike is now in need of its new partner, Airtel Payments Bank, to improve and support its efforts to introduce more and more Indians to easy online transactions through the popular messaging app as officially stated by the Vice President of Hike Messenger, Pathik Shah.
As a result to this collaboration, Hike Messenger's over 100 million users will soon gain access to the utility and merchant services and KYC infrastructure of Airtel Payments Bank. It is worth noting that the number of users of the chatting app is growing by more than 30 percent month over month (MoM) since the launch of Hike 5.0 and Hike's Wallet 5 months ago which made Hike's Wallet the most growing wallet over the shortest period of time in all of India. In addition to this massive success, Hike started a new campaign in order to increase transactions on its wallet and further increase the number of users of the Hike's Wallet.
On its part, Airtel Payments Bank stated that they are delighted by the new partnership with Hike as it will allow them leverage their digital banking infrastructure in the process of building a world-class digital payments ecosystem. This was a part of the official statement of A. Ganesh, Chief Operating Officer of Airtel Payments bank.
As part of the previously mentioned leverage of Airtel Payments Bank's digital banking infrastructure, a few months ago, specifically last September; there was an integration of Unified Payments interface (UPI), an interface that is very popular and widely used for internet banking by many applications, into the digital platform of Airtel Payments Bank. This integration was a step on the way for allowing Airtel Payments Bank's users to be able to make more secure digital payments to merchants online and offline alike, as well as instant transfers of money to any given bank account as long as it is in India.
At this moment, Hike, a shared property of SoftBank Corp and Bahrti Enterprises is sending and receiving more than 10 billion messages every month.