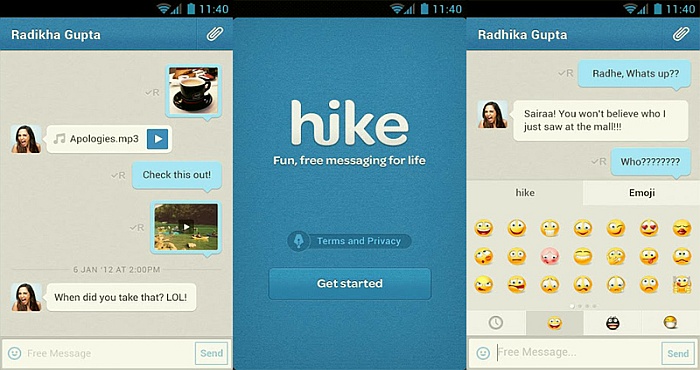 Hike messenger app is continually innovating ways to communicate as it has now added quirky stickers, offline and privacy messaging features to its application. Hike has above 35 million registered users and it is one of the applications moving away from the traditional text messaging to customizing the app for the youth. From the research conducted not quite long, 63 percent of 18-34 years old of people surveyed are active mobile application users.
Hike Messaging application comes with features that are youth centric for having fun while texting to their relatives and friends, to cater to the tastes of youth audience. With Hike messenger, you can have discussions filled with quirky and vibrant stickers. The stickers will carry the message and there is no need of writing text message. Without mincing word, Hike messenger application adds new colors to your text-less communications.
Hike Stickers
A user of Hike Messenger said that Stickers are great if you don't want to sound too rude or when you don't have time to type an entire message. Hike gives multiple options of Bollywood and Regional stickers that add a little more personalization to your digital conversations.
Hike Privacy
On the other hand, Hike messenger also comes with privacy features such as profile picture privacy that will hide last seen status. The Hidden Mode is also one of the major privacy features, through which one can hide Private Chats and access them with a password. Hike has Offline messaging which will allow users communicate without having an active Internet connection.
Hike Chats
The large file transfer of Hike is a blessing particularly when you share ppts, PDFs, notes, etc. while the file size can be up to 100 MB, which is also a plus point. In addition, Hike messenger supports 500 member group chats. This feature helps college students to share updates and notes on lectures very easily. Hike messenger app came with this feature on the demand of college students, to enhance their experience, as most of the IM applications have a limit of 100 people.
Download Latest Version